Barriers and Pathways to GovCon Success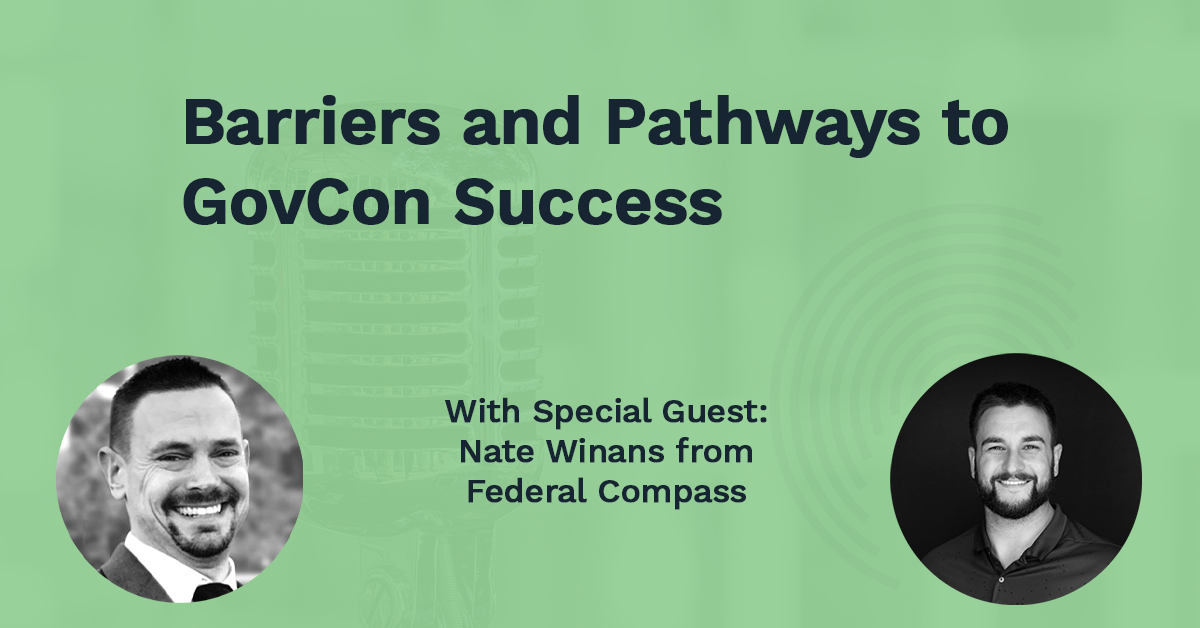 Federal government contracting is a lucrative and complex realm that offers ample opportunities for businesses of all sizes. While the prospect of securing a government contract can be enticing, it is essential to recognize the barriers to entry and understand how success can be achieved in this competitive marketplace.
Identifying Barriers to Entry
The first thing that comes to mind when someone hears about government contracting is that is extremely lucrative and fruitful. This is true, albeit, it is not without many challenges and nuances. Far too many non-contractors hear success stories from extremely successful contractors and think they can replicate that success. Unfortunately, that just is not the case in a large majority of scenarios.
Getting started in this space is challenging and provides unique barriers to entry. Some of the most common barriers include:
Capital requirements: many government contractors require substantial financial resources, which can be a significant barrier for small businesses. Bidding, fulfilling contract requirements, and managing cash flow during the payment delay put a strain on any company's finances. Especially those who are already struggling to survive.
Past performance: arguably one of the most important aspects of government contracting is past performance. The problem for businesses looking to enter this space is that many government contracts require a track record of government contracting experience. This presents a substantial disadvantage to the newbies. Government agencies often prioritize companies with a proven history of success rather than those who are unproven.
Regulations and compliance: federal contracting comes with a labyrinth of rules and regulations, which can be overwhelming for newcomers. Companies need to navigate the Federal Acquisition Regulation (FAR) and adhere to various and rigorous compliance standards. This is traditionally daunting, time-consuming, and expensive.
Competitive bidding: government contracts are, more often than not, awarded through competitive bidding processes, making it challenging for newcomers to stand out. The more established companies that have a proven track record often get a competitive advantage. Not only because of their past performance and experience but because they have stronger relationships with contracting officers. An invaluable element in this marketplace.




Pathways to Success
So how does a contractor find success in this marketplace? Through a multitude of avenues and channels.
How to create your pathway to success:
Understand the market: before diving in, research the government contracting landscape. Identify your niche and target agencies that align with your expertise. Knowing your competition, the current trends, and government needs can give you an edge. In short, research, research, and research.

Register on government platforms: in order to participate in government contracting, you must register on various platforms, such as the System for Award Management (SAM) and the Small Business Administration's (SBA) Dynamic Small Business Search. These platforms serve as your official gateway to government contract opportunities.

Certifications: if you are a small business, consider obtaining certifications like 8(a), HUBZone, or Woman-Owned Small Business. These certifications can open doors to set-aside contracts, providing a competitive advantage. They are also highly sought after from larger primes because they can utilize your status to win additional work.

Network and collaborate: building relationships is crucial in government contracting. Attend industry events, conferences, and engage with government procurement officers. Collaborating with experienced contractors can also be a strategic move for newcomers, as they can provide mentorship and support.

Proposal development: crafting a compelling proposal is an art. Understand the agency's requirements thoroughly, align your solution with their needs, and clearly demonstrate your ability to deliver. Seek professional help if needed.

Financial planning: be prepared for the financial challenges that can arise. Establish a robust financial management system, secure financing if necessary, and develop a contingency plan for managing cash flow during contract execution.

Continuous learning: the world of government contracting is ever-evolving. Stay updated on regulations, industry trends, and emerging technologies to remain competitive and responsive to government needs.

Persistence: success in federal government contracting may not happen overnight. Be persistent, learn from setbacks, and adapt to changing circumstances. Your perseverance can pay off in the long run.
To learn more about Federal Compass and our business development platform, click here.