Develop your customer strategies
Critical to success on any IDIQ is understanding the terrain of potential customers. It is not only a question of who will be there, but who may never show up to the party. Understanding the buying habits of your key customers requires you to look beyond your contract vehicles. And analyze the unseen threat of competitive IDIQs. Discovering that specific customers have opted to use another vehicle is not something you want to learn after you've won a contract.
At Federal Compass, we believe that a Contracts team's ability to hunt is directly related to the ground they are given to hunt on. With solutions tailored to your company's addressable market, we offer insights to determine which IDIQs give you the most surface contact with your customers. Develop a pipeline and pursue federal opportunities that position your Contracts team for success.
Where strategy and access merge
Customer diversification is a priority for sustained success. Making adjacent markets an essential element for any long-term strategy. The problem with adjacent markets is that, with few exceptions, they are cost and time prohibitive. A lack of customer intimacy and past performance creates immediate and significant barriers to any expansion strategy. An overlooked benefit of IDIQs is their ability to offer a low-risk option to start a conversation with new customers and gain that initial beachhead.
Filling your pipeline with new customers from a government contracts database is a blunt instrument that requires the sacrifice of both money and time for an uncertain end. Our Contract Vehicle and Penetration Analysis solutions can help you identify current access and target forecasts and potential task order recompetes to engage new customers. Develop multi-tiered approach strategies that offer greater precision and less risk than a pipeline full of hopeful opportunities.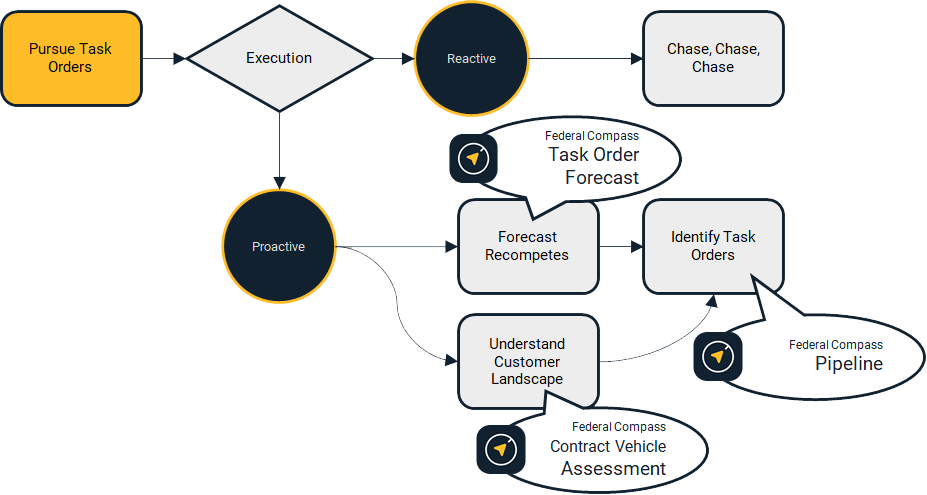 Forward-looking tools to keep pace with the rapid post-award cycle.
Evaluate your IDIQ performance
The flow of information out of an IDIQ is limited, making it challenging to obtain the transparency you need to assess your performance. That lack of knowledge hinders any attempts at accountability or visualizing critical underlying trends. Fundamental to recognizing the opportunities and challenges that exist within an IDIQ is knowing how you're performing with customers and against key competitors.
Federal Compass provides you with the insights you need to compare performance against your addressable market within an IDIQ. You are just a mouse-click away from determining the untapped potential of your contract vehicles.