Leverage your existing investments
What is in your contract portfolio is essential, but how you use those contracts determines success. Understanding your existing customer pathways and the potential of each contract vehicle is critical to post-award success. A collection of IDIQ's is only valuable if you know how to maximize your position by targeting the right customers and executing an effective task order strategy.
Federal Compass understands that once you've captured a prime position on an IDIQ, the battle has only just begun. Our personalized assessments will give you the clarity you need to evaluate your performance and develop informed post-award strategies. Drive your customer growth strategies by leveraging your existing access and identifying the contract vehicles you need to protect and expand your position within every customer.
Pardon me, are you going to use that contract?
Few things are as disappointing, and as typical, in the Federal market than the underperforming contract. Increasing preference for IDIQ contract vehicles has introduced new federal opportunities for contractors to find themselves on the losing end of a contract win. The realization that critical customers have adopted a different vehicle or a competitive situation is unfavorable, often happens too late. In this market, big contract wins only guarantee a press release, and ill-informed pursuit decisions carry painful penalties.
Federal Compass' personalized analysis will give you the insights you need to move beyond knowing what is in your pipeline and start asking why. Assess the threats posed by incumbents, competitors, and competitive contracts, and get the information you need to make informed pursuit decisions.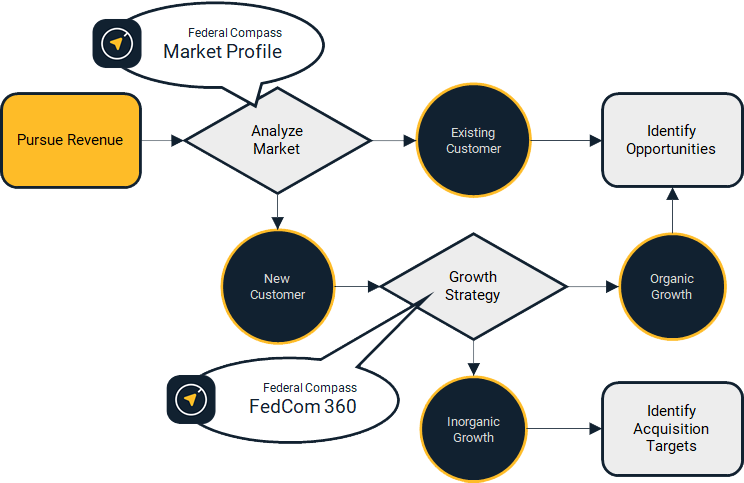 Federal Compass gives you the tools you need when decisions matter most.
He said, she said and hearsay
Executives all too often are at a disadvantage in many of their strategic and tactical conversations. They are focused on running the business and are left to depend on unverifiable information. Validating that information is vitally important to ensure that accountability and transparency are present in the boardroom. Trust but verify is critical to maintaining a focus and commitment to your strategic plan.
Federal Compass is more than just market intelligence; we offer on-demand strategic intelligence to meet the needs of executives. Get the information you need to validate what you are hearing and enter any meeting prepared to ask "why." Create and communicate a unified strategy based on your existing customers, new customers, and contract vehicles. And with Federal Compass, your employees can see your vision, interact with our solutions, and develop the right pipeline to execute on your strategy.