In a market that is more complex and competitive than ever, is your market intelligence ready for the challenge? Federal Compass offers solutions that are purpose-built to address the realities that exist in the market today, along with the most comprehensive federal opportunities database. Move beyond merely reacting and get the insights you need to find your direction. We invite you to explore our library of use-cases that demonstrate Federal Compass' approach to your real-world problems.
Though market intelligence teams can be highly useful assets, the reality is that most contractors are unable to maintain a dedicated market intelligence team. And for those that can, it is often a case of misunderstanding and mismanagement that limits the team's potential. For this use-case, we discuss the best practices of market intelligence and how to harness the potential benefits for your company.
What market intelligence team?
Perhaps the most common problem with market intelligence is the lack of market intelligence. In a highly competitive market, still reeling from the disruption of lowest price technically acceptable (LPTA), indirects have become a luxury. Even a company willing to expend the resources will find that capable market intelligence professionals are in short supply. How then, do you get all the capabilities of a market intelligence team, when you don't have one?
Federal Compass is leveling the playing field. We designed our solutions and tutorials to make it easy for any user to navigate, interact, and apply our information to their needs. Our strategic solutions, tailored to your company's past performance, are on-demand and require nothing more than a click of your mouse. With Federal Compass, you can enjoy the benefits of a market intelligence team, without ever having to hire one.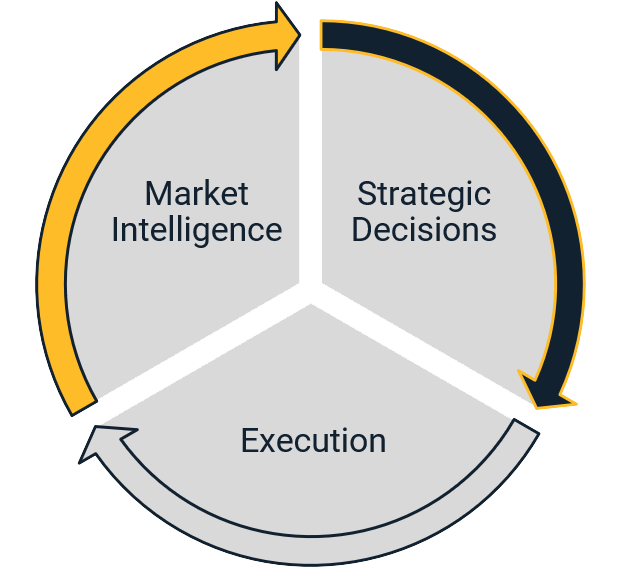 Market intelligence powers thoughtful, informed decisions, which in turn, sharpen execution.
No, you cannot just Google it
The primary misconception of market intelligence is that it is readily available. That you can easily find it in a format that addresses your immediate needs. Many assume that 3rd party providers, federal procurement data system (FPDS), and the Federal budget are market intelligence. In reality, these are nothing more than inputs, yet to be shaped into relevant and actionable-intelligence. How meaningful is any information when everyone can access it?
As career market intelligence professionals, we understand the competitive advantages and real-world complexities associated with actionable-intelligence. We developed our tactical and strategic solutions on a foundation of personalization and customization. In short, we offer analysis and insights based on your organization's "DNA" that is not available to anyone else. Reduce the time between research and action, and arm your organization with the tools they need to impact your success.