eBook: COVID-19 Federal Contracting Analysis
There's a lot of news going around about the coronavirus COVID-19. We'd like to add some clarity, rooted in the numbers (see data appendix), on what the government is doing during this acute phase of the pandemic and its impact on the Federal contracting community. This is a living document to reflect the rapidly evolving situation-look for updates to our predictions and the data appendix periodically.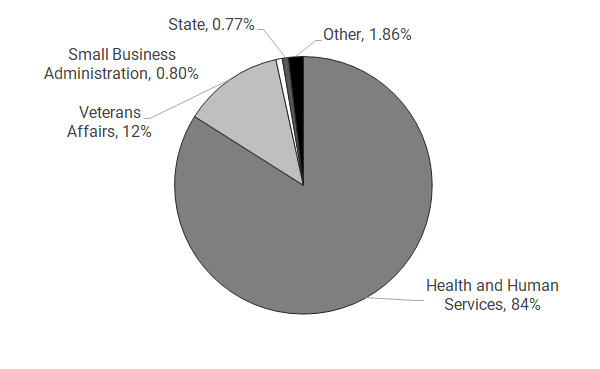 COVID-19 related obligations by department (%)
First, we explore the initial, acute phase of the COVID-19 response, and how it's unfolding. Who are the front-line agencies? We dive into the concrete actions that the government is taking during this phase and how that results in contracting dollars.
We then evaluate the secondary impact outside of simply HHS and VA spending. How are other agencies impacted by the crisis and how is that materializing into contracting dollars? Finally, we look into the longer-term recovery and impact to the Federal contracting community. Will the pandemic result in structural and cultural changes throughout the industry? What are some of the risks and opportunities in this new landscape?
The Acute Phase
We've all been shocked at the rapid nature of this story unfolding across the globe. The Federal government has been doing its best to deal with the crisis in the form of congressional legislation and rapid awards of contracting dollars. In the short term this means primarily vaccine research, healthcare spending and mitigation efforts across other agencies.
Telework Readiness
According to at January 2019 OPM report to Congress, 36% of Federal employees telework to some degree; of the remaining employees, 12% reported that they did not telework by choice and 51% reported that they did not telework due to a barrier. The good news is that the Federal government has been planning for and implementing telework for quite some time. However, it's an abrupt change to go from 36% to 100% overnight.
If we examine the states with active stay-at-home orders, this accounts for 85% of the 2.1M Federal employees.
Tracking the Response
The day by day uptick of opportunities and awards, primarily for vaccine research, medical equipment, testing supplies and pharmaceuticals.

COVID-19 related obligations by day ($M)
Further Reading
Explore the full analysis by downloading the free eBook on COVID-19 Federal Contracting Analysis here.