What is SAM.Gov and Do I Need It?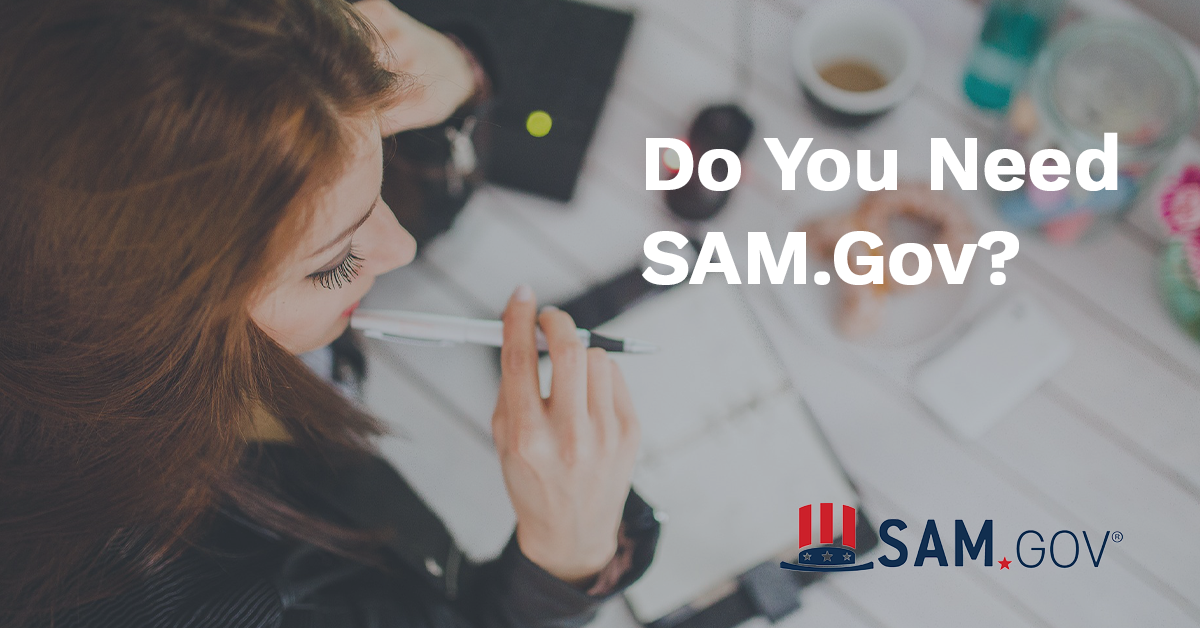 You have taken the plunge and are ready to get into federal contracting. Excellent. Have you identified who buys what you sell? Have you identified what you are going to sell to the government? Have you registered on SAM.Gov? Lots of questions out of the gate, but for how fruitful government contracting can be, it can be just as convoluted and confusing.
The System for Award Management, known as SAM.Gov, is the official website the United States Government uses to publish and manage federal contracting opportunities. If you want to do business with the U.S. federal government, you need to be a registered contractor. In an effort to help save contractors time each time they submit a proposal, their SAM registration helps ensure they have been properly vetted and are approved to do business with the federal government.
Do I Need to Register on SAM.Gov?
If you want to do business with the U.S. federal government, you must register on SAM.Gov. Whether you want to be a prime or subcontractor, a SAM registration is necessary. It is free to register and there are no fees associated with your SAM registration. If a company ever tells you that you have SAM dues, they are most likely trying to scam you. You will need to revalidate your SAM registration every 12 months to ensure proper validation.
If you have questions or need assistance with your SAME registration, their service desk can help.
How to Register Your Company on SAM.Gov
To register on SAM.Gov, there are four elements you will need. Once you have submitted all required information, your registration should be complete within a calendar month.
Company Information: enter your company name, DUNS number, CAGE code, TIN, and general company and financial information.
Goods and Services: the types of goods and services your company will provide. Unsure of what you want to sell to the government, it may be premature to register as a federal contractor then.
Certifications and Qualifications: the government loves doing business with small businesses. If your business qualifies as a small business, woman-owned, service-disabled veteran-owned, or HUBZone, the government wants to know. You will need to ensure that if you are ever recognized with a set-aside status, you understand what that means and you abide by their guidelines.

Company Contacts: if and when the government needs to get in contact with your team, who are they going to contact and how.
Federal Contracting Opportunities on SAM.Gov
Once you have successfully registered on SAM.Gov, the good news is that you can now begin searching and bidding on federal opportunities. The bad news is that filtering through all of the opportunities and properly qualifying them can take a lot of hours and resources to do so. In addition, any of your competitors can do the same. This means you are looking at the same opportunities and the same information. You do not have a competitive advantage.
With a system like Federal Compass, you can have tailored insights and intelligence that is based on YOUR business and its core competencies. This means the opportunities you see and can bid on are not just biddable, but WINNABLE. Finding opportunities is good. Winning opportunities is better.
Do You Need SAM.Gov to Be a Successful Government Contractor?
In short, no. You need an active registration but you can find opportunities elsewhere. If you end up being a life-long subcontractor, you may not even need to be registered on SAM. Your primes will pay you for the work you complete and that will be that. However, if you ever want to be a prime and win and perform jobs on your own, implementing a more robust system like Federal Compass may be the right choice for your team.
We provide a free trial and have flexible packages available to all business sizes.
Good luck out there!